Metal Buildings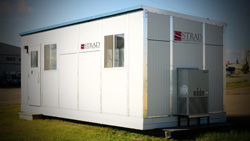 Metal Buildings
Strad's buildings are known for their energy efficiency and insulation ratings (R12 / R20), high strength-to-weight ratio and the ability to protect against all outdoor elements. Our structures are designed to be easily modified and will fit a multitude of applications.


Types of Applications:
» Production Equipment
» Compression Systems
» Seperator / Metering Buildings
» Portable Jobsite Offices
» Well Head Shelters
» Valve / Header Covers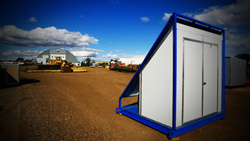 Panel Manufacturing
Our in-house panel manufacturing facility ensures Strad has a continuous supply of panels for the metal building business as well as offers customers a high quality wholesale option. Strad's panels are sturdy, lightweight and insulated to prevent freeze ups.

Our customer-first focus makes Strad a leader in the structure and panel marketplace. We offer onsite servicing to assist our customers with concerns in the field with any of our products.
Gallery