Bike Smart Couriers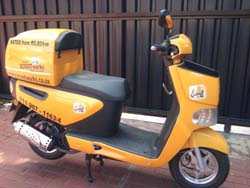 Bike Smart Couriers
Bike Smart Couriers. The smart way to beat the congested Cornish roads All Motorcycles Have Factory Fitted Panniers And Top Boxes Which Are Lockable And 100% WATERPROOF Not only to keep those pizze warm but also safe from would be hijackers.

If you or your business would like to start offering delivery through One Revolution please give us a call. We would love to offer a bike delivery option for your meals and/or catered events you can easly deliverd these things at the door step like..

Carry Cab can customize your design for each category

■Breakfast
■Lunch: Sandwiches, panini, orders to-go ...
■Dessert: Cakes, pies, mini-pastries, cookies, baked treats ...
■Wedding Cakes: Options for your special day ...

Gallery